So, in the midst of moving into our house back in October, I attempted to spruce up our family room by purchasing side tables that were not only the wrong height, but also the wrong color as I later discovered.

You know how it is, you just get this feeling like you need to buy something right away in order to fill in the gaps and you don't care if it's slightly off in some ways, you just want something right now. Well, yea that's how I felt when we moved in and I still sort of feel that way at times. But trust me, I've learned the hard way on this. Always think it through when making purchases (no matter how little or small, you can't be too careful in this economy) towards your house. It's not worth getting it wrong and wasting money when you could've gotten it down pat the first time with a little extra research.

With that said, I have been researching my little tookus off on some new side tables to replace the current ones in the family room and I have to say, I've created quite a little dilemma for myself since now I can't decide which ones to get!

Here are a few that I have my eyes on:



This Through-the-Looking-Glass Table is a great French-inspired mirrored-top table for $79 from Wisteria. It could be a great bedside table in a Hollywood-esque bedroom or a side table in your grown-up living room. For whatever your needs, I don't see why you couldn't use this. And the price is right considering how glamorous and classy it looks. Heck, I might just go ahead and purchase this right now...
Another great find I came across were these Nesting Hexagon side tables from West Elm for $199.00 for a set of two. Nesting tables are another obsession of mine since they are stylish and functional all at once.
Just a few more tables that I can't seem to decide on!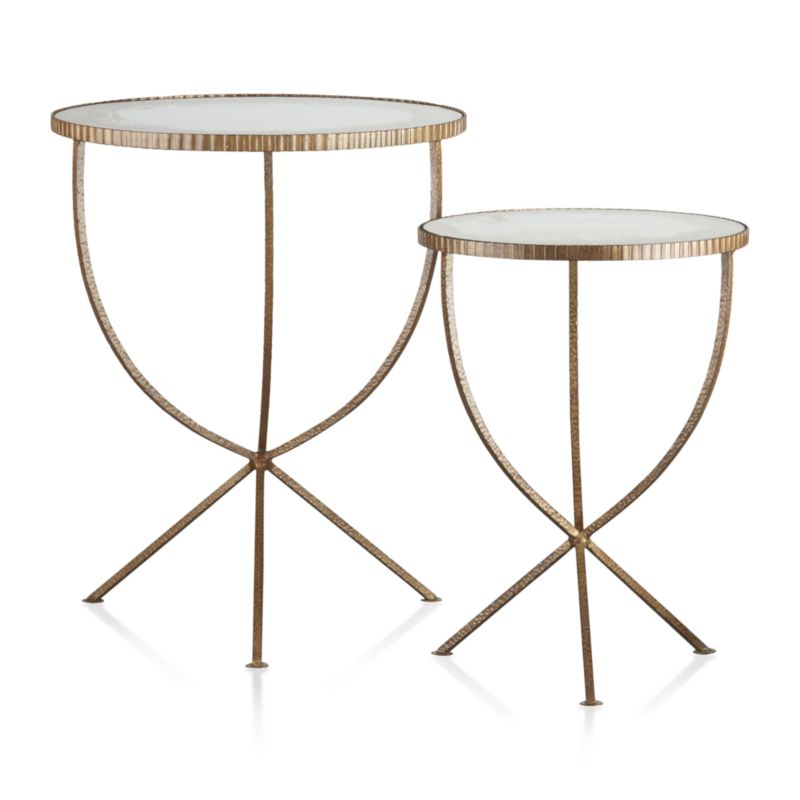 Jules Accent Table Set from Crate and Barrel for $449.00.

Sleek, clean lines on the Silhouette Nesting Accent Tables, won't cause any clutter since the tables are virtually see-through and are a steal at $199.91 for all three at Amazon.com.
There's something about the Tatiana Side Table at Ballard Designs that makes me want to have a modern living room with graphic printed pillows and rugs. But for $99.99 I think I can make it work in my very traditional living room.
For those of you who live around the DC/Maryland/Virginia area, you're in luck because there are plenty of shops to find unique items at a great price. One of my favorite hunting grounds is Not Too Shabby Consignments in Alexandria, Virginia. This Burled-wood top occasional table is a great find at $125. And with a little sanding of the table-top, you could paint it black to match the legs giving it a cohesive look. Or you could paint it gold to match the gold accents. Either way, its a great accent table to have and you know that you'll be the owner of a unique piece.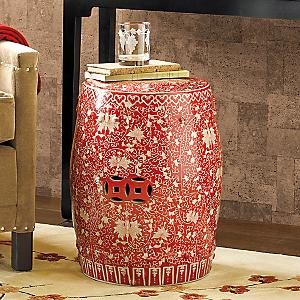 I recently discovered garden stools as a great alternative to a traditional side table and now I cannot stop looking for them everywhere I go! I had first seen them in a recent issue of House Beautiful and fell in love with the idea of something that has such delicate and fanciful designs on it be used for something so hardy.
I

have

to get one in red and white, so I am just over-the-moon to find this Red and White Garden Stool from Gump's San Francisco and at $249.00 it's a bit pricier than what I would like to pay for, but if the search for a red and white garden stool is just as hard as finding a rainbow colored unicorn then well I'm just going to have to cough up the $249 for it, right?
I really could do a whole posting on garden stools...hmm there's a thought. There's such variety on the different designs you find on them that I feel compelled to cover that in another post. Okay so maybe the next post will be on garden stools or maybe not. Wait and see!