1 CHEERS Wine Bag Natural Cotton for $8.00



This past weekend, my husband and I had the pleasure of attending a wine tasting party hosted by our good friends and had the best time EVER! I had never been to a wine tasting party before and didn't really know what to expect. Yes, I knew we'd be tasting a fair amount of wine, but I didn't realize there would be a sort of structured approach to it. I guess when it comes to drinking copious amounts of wine, some sort of structure is necessary but I really didn't know what would be involved. Well, our lovely hosts were quite organized and the whole thing went off without a hitch!

In order for their wine tasting to run smoothly, they used wine bottle bags to hide the identity of the wine so that us drinkers wouldn't know what kind of wine we were drinking. Then we rated the wines and whoever brought the most favored wine won a prize. Call me naive but I didn't realize that wine bottle bags were used that way! I just figured they were used as gift bags and not for wine tastings.

With the holiday season fast approaching, I'm sure there will be lots of wine tasting parties going on so I thought I should find some charming wine bottle bags for you all to use or give as gifts.




Wine Bottle Burlap Bag with Driftwood tag for $10.75

wine bottle gift bag made from cashmere for $22.00

Wine Bottle Gift Bag - grey and cream floral for $12.00

Knit Wine Cozy for $10.00

WINE BAG - jute-burlap for $9.50

2 Wine Bottle Sachet Cover gift bag for $10.00

Fleur de Lis Fabric and Embroidered Wine Bottle Bag for $6.99

Velvet Wine Bag for $5.95

Whisper Wine Bag (reversible) for $5.00

Fabric Wine Bottle Gift Bag with Tie and Gift Tag for $7.00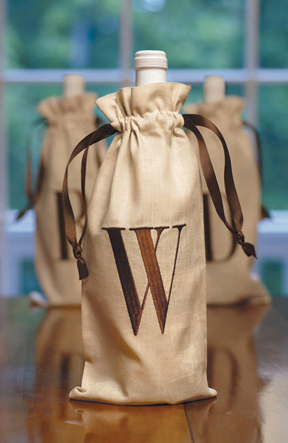 Block Monogram Linen Wine Bags
SALE! 3 for $21.00